Carlisle Contour Rib: Provides the appearance of a Standing Seam Metal Roofing with the Performance of Carlisle Fleeceback TPO or PVC.

The Carlisle Contour Rib is an innovative product that combines the advantages of a single-ply system with the aesthetic appeal of a standing seam metal roof. To achieve this look, the Contour Rib is hot-air welded in a parallel pattern to the exposed surface of Fleeceback TPO or Fleeceback PVC membrane to simulate a standing seam metal roofing system.

The Contour Rib measures 1-1/4" tall and 2-1/8" wide, including the welding flanges, while the vertical profile is 3/8" thick. The rectangular rib profile design provides exceptional shadow lines for aesthetic appeal. The Contour Rib is available in 10' lengths and dimensionally stabilized and strengthened by a fiberglass reinforcing cord that runs the length of each section. Contour Rib sections are joined together by a non-corroding fiberglass connecting pin, ensuring continuity and compatibility throughout the application.

The Contour Rib is extruded from the same weather-resistant compounds as their associated Carlisle TPO or PVC membranes, ensuring comparable weathering characteristics and an excellent color match. Colors available include white, gray, or tan.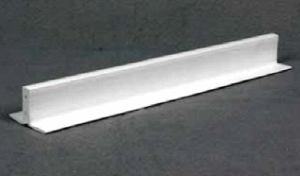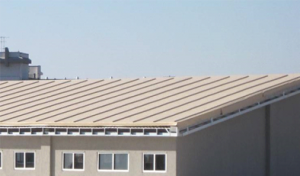 As always, if you have any questions, please contact your local Carlisle Rep to discuss in further detail.