Polyiso, a rigid foam insulation, is used in over 70% of commercial roof construction, commercial sidewall construction and in residential construction. However, not all foam plastic insulating sheathing materials have equal fire performance properties and capabilities. In addition, polyisocyanurate has a better R-value per inch, up to 6.5 per inch, than any other foam plastic in the market today.

| | |
| --- | --- |
| R2+ Silver: | Behind masonry and stone veneer claddings |
| R2+ Matte: | Behind metal composite and architectural metal claddings |
| R2+ Sheathe: | 25 PSI direct installation over open steel studs |
| R2+ Base: | Fasten metal, metal composite, stucco, cultured stone and fiber cement siding to the plywood base. |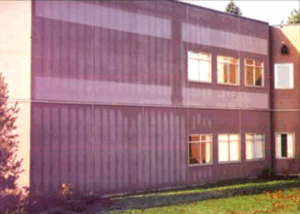 R2+ provides continuous Insulation for wall applications. As you can see from the picture on the left, thermal bridging can cause ill effects on wall construction when continuous insulation is not used. R2+ provides:

Tested and approved for NFPA-285
Energy Efficiency
Single-source support

As always, please contact your local Carlisle Rep for additional information and samples on R2+ Wall Insulation.