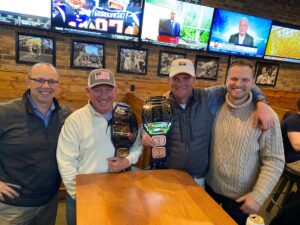 Carlisle SynTec along with Luna & Associates presented the FleeceBACK Champion award to Academy Roofing and Sheet Metal of Des Moines, IA. Academy Roofing & Sheet Metal won the award for being the contractor who installed the most FleeceBACK membrane in the United States.
Brian Krumm and Nick Parenza are the owners of Academy Roofing and Sheet Metal. They were both on hand to pick up their FleeceBACK Champion belt. Rob Mulaney and Matt Weatherly with Luna & Associates presented the award.
Brian and Nick chose to use FleeceBACK 145 EPDM, which is classified as an ultra-performance style membrane and is the thickest single ply membrane manufactured. This FleeceBACK membrane selection enabled their customers to get a high-performance roofing system with a lower installed cost compared to standard membrane and coverboards systems typically offered. Along with the cost savings, Brian and Nick provided their building owners coverage for 4″ hail, 32-man hours of accidental puncture repairs, and an 80 mph wind speed warranty that are not available with non-fleece membranes.
In the pics from left to right are Rob Mulaney, Brian Krumm, Nick Parenza, and Matt Weatherly.
Congratulations to Academy Roofing and Sheet Metal, the one and only reigning US FleeceBACK Champion!