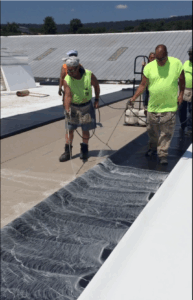 Carlisle's CAV-GRIP III Low-VOC Aerosol Contact Adhesive/Primer can be used for a variety of applications:
Adhering vertical walls using FleeceBACK®, Sure- Weld® TPO, or Sure-Seal® EPDM.
CAV-GRIP III IS NOW APPROVED FOR USE WITH STANDARD TPO AND EPDM MEMBRANES AS A SUBSTRATE ADHESIVE FOR WARRANTIES UP TO 20 YEARS.
Enhancing the bond between Carlisle's VapAir SealTM 725TR and various substrates
Priming unexposed asphalt prior to applying FASTTM Adhesive
CAV-GRIP III's Low-VOC, methylene chloride-free formula promotes tenacious adhesion and quick drying in a wide range of temperatures. Applied using a self-contained spray system that provides quick and even coverage, this system requires minimal cleanup or maintenance. Please note: cylinder, hoses, and gun are each sold separately.
Can be used in temperatures as low as 25° F as an adhesive and 15° F as a primer.
Low odor/Low-VOC
Available in 40# and 85# cylinders.
Propellant in cylinders must be kept above 70° F for the product to spray properly. Utilize power heated blankets and hot boxes when necessary. Ensure cylinder temperatures stay below 110° F.
As always, if you have any questions, please contact your local Carlisle rep to discuss in further detail.