Adding pre-fabricated roof edge metal to a Carlisle Syntec single ply roof specification has several advantages, the first being the metal is in the "Edge to Edge" Golden Seal Total Roof System warranty. Metal that is pre-fabricated is uniform and has been tested to meet code. Pre-fabricated metal enhances workmanship and offers up to a 35-year paint finish warranty.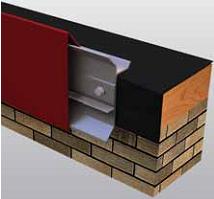 The metal roof edge or metal perimeter conditions must be a part of the overall roof system design. A quality roof edge system will resist the inward pull of the roof system due to expansion and contraction. And will resist the wind uplift forces that can peel the edge system off the building. A metal roof edge must meet code and can be a roof's first defense against edge failure.
SecurEdge fascia, drip edge and copings can be viewed at www.carlislesyntec.com. The Luna and Associates team can help determine if SecurEdge metal would be an option in your building specifications. Contact your local rep for additional information.